WHITE CHOCOLATE STUFFED COOKIES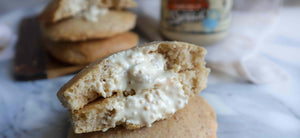 If Carb Killa® spread's your thang, then you're sure to love these drool-worthy stuffed cookies, courtesy of baking genius Rosie Brown! Packed with our tasty White Chocolate spread, these delicious cookies are a great healthier alternative to high calorie, sugar-crammed cookies. With just 6g of sugar and 171 calories per cookie, you can enjoy guilt-free indulgence! Give this recipe a go and be sure to tag us in your creations - we'd love to see!
 INGREDIENTS
| | |
| --- | --- |
| Amount | Ingredient |
| 160g | Gluten Free Flour |
| 20g | Vanilla Protein Powder |
| 1/2 cup | Coconut Oil (softened to room temperature) |
| 1/2 cup | Almond Milk |
| 2/3 cup | Maple Syrup |
| 1 tsp | Vanilla Extract |
| 1 tsp | Baking Soda |
| 1 tsp | Baking Powder |
| 1/2 tsp | Sea Salt |
| 12 tsp | Carb Killa® Protein Spread White Chocolate Cookie  |
 METHOD

1.In a large bowl, whisk together flour, protein powder, baking soda, baking powder and sea salt.
2. Next, add in the almond milk, maple syrup and vanilla extract. Mix with a spoon until well combined.


3. Then, add in the softened coconut oil and mix in with your hands until a large, sticky 'dough-like' ball has formed. Refrigerate this for at least an hour.


4. Preheat your oven to 180°C/350F.


5. Then, take your 'dough' out of the fridge and roll into 12 small dough balls. Using your thumb, press the centre of each small ball to create a round crevice for the Carb Killa® spread. Next, spoon about 1 tsp of spread into the crevice and cover with roughly 1tsp of the left over dough.


6. Flatten your dough balls into cookie shapes and place onto a cookie sheet or baking tray.


7. Bake for 10-12 minutes or until the edges are golden.


8. Once baked, removed from the oven and allow to cool for around 15 minutes - this will ensure the cookies firm up and don't fall apart!).

9.  Indulge and enjoy!
---