WHAT ARE THE BENEFITS OF PROTEIN SHAKES & WHEN SHOULD I DRINK ONE?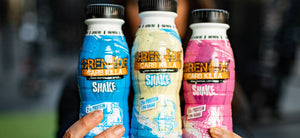 It's no secret that protein is pretty damn good for us. And, don't be fooled. It's not just reserved for those who love to pump iron. Protein is essential for us all and downing a shake is an easy, quick way to get in your daily intake. But, what are the benefits of protein shakes and when is the best time to drink one, you ask? The truth is, there's no bad time (especially if you're drinking our delicious Carb Killa Shakes), so here's the top benefits of drinking protein shakes and when we think you'll get the most benefit from drinking them.
ARE PROTEIN SHAKES GOOD FOR YOU?
This depends on the protein shake itself. Some protein shakes are filled with sugar and other unnecessary ingredients, so it's always worth referring to the packaging label before purchasing protein powder or pre-prepared protein shakes. Our Carb Killa shakes are loaded with up to 25g of protein and are low in sugar, meaning you can pack in the protein without consuming harmful amounts of sugar. Protein is an essential macronutrient, providing many benefits such as muscle recovery and growth and appetite satiety, so ensuring you consume the recommended amount of protein each day is a must in order to live a healthy, balanced lifestyle.
HOW MANY PROTEIN SHAKES SHOULD I HAVE EACH DAY?
Protein shakes are a great way to pack additional protein into your diet, especially if you struggle to consume enough protein via your diet. However, it's worth remembering that your body can only absorb around 25-35g of protein in one sitting, so filling up on protein shakes won't necessarily mean bigger biceps! We recommend that you consume up to 2 Carb Killa protein shakes per day.
WHAT ARE THE BENEFITS OF PROTEIN SHAKES? WHAT DO PROTEIN SHAKES DO?
Consuming protein is essential for a healthy body. Proteins play a variety of important roles in the body, including the structure, function, and regulation of the body's organs and tissues. Drinking protein shakes is a great way to ensure you're consuming the recommended amount of protein each day, especially if you find it hard to get enough protein through the foods you eat (this could be down to allergies or due to following a plant-based diet). You can find out more about the role protein plays in maintaining a healthy body in our blog, Why Does The Body Need Protein?
ARE PROTEIN SHAKES BAD FOR YOU?
The world of protein can be a minefield; with so many products and brands promising to help you pack in the protein, which should you trust?! We recommend always referring to the product packaging before purchasing or consuming a protein-based product. Some protein products contain high levels of sugar and fat, meaning they might not be the healthiest option on the market. Try to opt for protein products containing high-quality ingredients, with low levels of sugar and fat. Our Carb Killa shakes are loaded with up to 25g of protein, but contain low levels of sugar and fat, allowing you to get your protein fix in a healthier way. If protein powder is your preferred option, Grenade's Hydra 6 protein powder is a great option; made with using a unique blend of high-quality whey and casein protein, this versatile product can be taken at any time during the day. Each serving contains approximately 130 calories and offers over 24g of protein!
ARE PROTEIN SHAKES GOOD FOR WEIGHT LOSS?
In order to lose weight, you need to burn more calories than you consume each day – it's really that simple! So, consuming protein shakes won't cause weight gain when consumed with this in mind. However, protein can help you lose weight due to its ability to reduce hunger and curb cravings. It can also keep you feeling fuller for longer, so ensuring your meals are packed with protein-rich foods such as chicken, fish, or beans and legumes is a great way to avoid overeating. Protein shakes are also a great snacking option if you need to curb those cravings on the go.
WHEN SHOULD YOU TAKE A PROTEIN SHAKE?
A POST-WORKOUT PROTEIN SHAKE
Probably the most popular time to pack in your protein fix. Many of us shake up our protein powder after a strenuous gym sesh, and rightly so! Taking part in the post-workout protein shake ritual offers many benefits, including the recovery of tired muscles. It can also contribute to muscle growth, which is why you'll see many a meat-head guzzling on a protein shake after their session.
PROTEIN SHAKES FOR BREAKFAST
No time to eat in the morning? Despite breakfast being hailed as the most important meal of the day, many of us blame dodging breakfast on a lack of time. You may be too busy to whip up a full breaky or slather some Instagram-worthy avo on toast, but mixing up a protein shake takes a matter of seconds and it won't take you long to down it either. If you're short on time in the morning, a protein shake is a great, on-the-go option and the high protein content will leave you feeling fuller for longer.
PROTEIN SHAKES FOR A SNACK
Ah, snacking: our favourite topic. We know a thing or two about snacking and a protein shake is up there with one of our go-to healthier options. Take the Carb Killa® Protein Shake, for instance. They're packed with protein and low in sugar, meaning they're a great way to overcome a midday hunger pang or an evening sweet tooth.
A PROTEIN SHAKE BEFORE BED
You've had your dinner. You've brushed your teeth, in the hope that it'll deter you from raiding the fridge for snacks but there's no ignoring those late-night stomach rumbles. Sometimes, a bedtime snack is necessary but make it something fulfilling that'll see you through till the morning and provide additional benefits, just like our Carb Killa Shakes! This late night protein hit will help reduce muscle breakdown and assist with recovery while you sleep.
Peckish? Well, what are you waiting for? Grab a shake and it'll keep you feeling fuller for longer, while also packing in some great nutritional benefits.
---