COOKIES & CREAM PROTEIN SLICE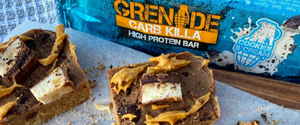 Looking to create a low-sugar protein snack to fuel you on the go? Look no further than this delicious Cookies & Cream Protein Slice by 
@taras_tastes
.


INGREDIENTS
For the base:
100g Oat flour
50g Almond Flour
50g Vanilla Protein Powder
70g Almond Butter
40g Honey or Maple Syrup
2 x tbs Vanilla Yoghurt
95ml Milk
4 x Squares Lindt 70% Dark Choc
For the topping:
1/2 x Slab Chocolate of your choice
Caramel Sauce
1 x Piece Dark Chocolate, finely chopped
METHOD

To make the base, add all the ingredients in a bowl except for the dark chocolate and mix together. Then take your dark chocolate and cut into small pieces. Mix the dark choc pieces into the mixture and press it into a lined baking tray.

To make the topping, melt your 1/2 x slab of chocolate and pour over the mixture in your baking tray. Aesthetically arrange your Grenade Carb Killa Pieces on top and sprinkle with the finely chopped dark choc. Finally, add your caramel sauce and place in the fridge for around 3 hours until set.

Enjoy!
---