CARB KILLA SPREAD STUFFED COOKIES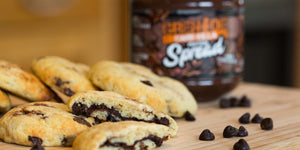 How good do these epic stuffed cookies look?! Baked by the talented Elkie Chiu, these include our delicious Carb Killa spread - who's ready for some gooey goodness?! Give 'em a go and don't forget to share your cookie creations with us over on Instagram.


METHOD
1. Preheat your oven to 180°C
2. Start by creaming the Truvia (or sugar) and the butter until it is light and fluffy
3. Then, add the egg, whisk briefly and add in the vanilla extract to the mixture
4. Add in the vanilla protein powder, oat flour, plain flour and stir into the mixture until a dough starts to form
5. Next, add in the chocolate chips and fold into the dough
6. Then, wrap the dough in cling wrap and place in the fridge for 30 minutes to firm up
7. Line two baking trays with baking parchment and divide the dough into 12 balls
8. Next, flatten each ball and place the frozen Carb Killa Spread discs in the middle
9. Wrap the edges of the dough around the chocolate disc, seal and flatten slightly
10. Place on the baking tray and repeat with the other cookie balls - be sure to generously space out each cookie
11. Bake for approximately 8 minutes for a softer cookie or 10 minutes for a firmer cookie
12. Once baked, let the cookies rest on the tray for a few minutes before transferring to a wire rack to cool
13. Once your cookies have cooled, make yourself a cuppa and enjoy!



---