5 WORK FROM HOME TIPS TO HELP YOU STAY PRODUCTIVE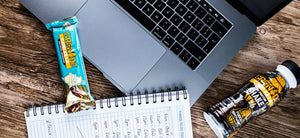 The current situation has presented us with a number of new challenges but working from home needn't be one of them! Yes, it's bound to take some getting used to; you'll procrastinate, you'll probably live in joggers and yep, you'll have devoured the contents of your snack drawer in the first few days. But, these tips should help you get into the swing of things and get the job done!
1) STICK TO A SET WORKSPACE
The dining table, the kitchen counter, we've even witnessed an ironing board being transformed into a workspace – now, that's what we call innovation! Wherever you choose to set up your workspace, try to stick to this space during your time working from home. The familiarity will resonate, and you'll switch onto work-mode when in this space, allowing you to be more productive. It'll also allow you to separate your work life from your home life, which is super important for your productivity too.
2) STICK TO YOUR USUAL ROUTINE
Try to get up and go to sleep at the same time you would during your usual working week Yes, a lie in may be tempting, but using the extra time to workout, read or treat yourself to a fancy breakfast will allow you to achieve something before you've even started your working day, which will boost your motivation. Sticking to your usual routine also provides some normality to a very uncertain time, which can be reassuring and help you stay on track.
3) CREATE A TO-DO LIST
Nothing new here – most of us work from a to-do list, after all. But ensuring you have a structure to your day can be vital for your productivity and a great way to combat procrastination. Don't overload your list, though. Be realistic and only add the most urgent tasks or those you are certain you can complete. Setting unrealistic goals can cause additional stress and none of us need any more of that at the moment!
4) GET OUTSIDE
Nope, we don't mean to flock to the nearest park cos the sun's shining – that wouldn't be very 'social distancing' of you. But, try your best to get yourself some good old fresh air each day, if possible. It could be a quick walk around the block to clear your head or sitting out on your balcony or in your garden to eat your lunch. A change of scenery and some time outdoors is sure to be a welcome break from your computer screen and will help recharge your batteries.
5) COMMUNICATION IS KEY
From Zoom calls to various work-related WhatsApp groups, the multiple channels of communication can be overwhelming to begin with, but communication is key, especially in times of uncertainty. Staying connected with colleagues allows you to keep up to date with business news and tasks and you'll also get a taste of the office banter you've been missing out, adding a little bit of normality to your day.
If you're working from home, we want to hear your tips! Share your secrets with us over on socials. If you're in need of more motivation tips, then head over to our blog, where you can read our 7 simple ways to stay positive, Or give our podcast a listen for some inspiration.
---